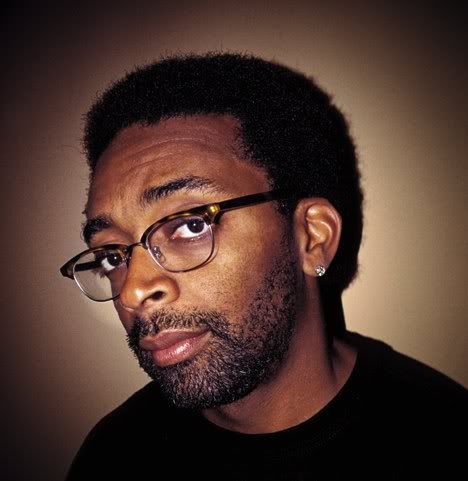 (source:www.eurweb.com)
*On this weekend's "Our World with Black Enterprise," director Spike Lee sits down with host Ed Gordon for a no holds barred interview rife with the artist's trademark frankness.
Taped live at the 14th annual Black Enterprise Entrepreneurs Conference, Lee discusses his concern about the image of blacks in the media, and weighs in with his thoughts on contemporaries John Singleton and Tyler Perry. [See details below.]
"Our World with Black Enterprise" will air its exclusive interview with Spike Lee on Saturday, May 30, and Sunday, May 31 on syndicated stations across the country.
Highlights include:
On his films being labeled "controversial":
I think journalists are lazy—how do you define people with one word? The subject matters we've done in my films—I don't think they are controversial. I don't think racism is controversial, it's thought provoking. If you look at how we dealt with that in Do The Right Thing, Jungle Fever, Malcolm X [etc.]. I don't think School Daze was controversial. We looked at what I feel are the superficial differences that keep us from being a more unified people. Superficial differences based on skin complexion, hair texture, class—that type of stuff. That's not controversial.
On stereotypical images of blacks in the media:
Each artist should be allowed to pursue their artistic endeavors but I still think there is a lot of stuff out today that is "coonery" and buffoonery. I know it's making a lot of money and breaking records, but we can do better. … I am a huge basketball fan, and when I watch the games on TNT, I see these two ads for these two shows (Tyler Perry's "Meet the Browns" and "House of Payne") and I am scratching my head. … We got a black president and we going back to Mantan Moreland and Sleep 'n' Eat?
On Tyler Perry and what the black consumer (really) wants to see:
We've had this discussion back and forth. When John Singleton [made Boyz in the Hood], people came out to see it. But when he did Rosewood, nobody showed up. So a lot of this is on us! You vote with your pocketbook, your wallet. You vote with your time sitting in front of the idiot box, and [Tyler Perry] has a huge audience. We shouldn't think that Tyler Perry is going to make the same film that I am going to make, or that John Singleton or my cousin Malcolm Lee [would make]. As African Americans, we're not one monolithic group so there is room for all of that. But at the same time, for me, the imaging is troubling and it harkens back to Amos n' Andy.
On the election of a black President:
It was witnessing history. It was like being alive when Jackie Robinson integrated baseball, when Joe Louis knocked out (Max) Schmeling—it was like that. When Jackie Robinson played for the Dodgers, every African American in this country was praying for him. When Joe Louis fought and won, black communities—in Detroit, Harlem, Chicago—black communities from all over the world would come out of the house after listening to Joe knock out those guys on the radio … and celebrate. With [President Obama's victory] it was the same thing!