This weekend in San Francisco, we (D2S) are bringing back one of our most successful and acclaimed events, "Love Movement". Love Movement was not our first event, but it's significance comes from the family and friends who supported us every month, and to my ability to produce these classic mixtapes. I had some of my best DJ sets there, and those nights will never be forgotten. Since we're bringing back, I thought this would be a good time to give some history on the making of the Love Movement series, and to post the download links.
Love Movement 1
My first computer that I've ever solely owned was my iMac in 2005. I barely knew anything about what it could do, or even why I bought it, but I knew I could make mixes with it. The idea came from the D2S crew (or maybe myself, I forget) that I should do a promotional mix that reflects the mood and overall vibe of the monthly event. I didn't know the first thing about how to record it, I just knew you could record in Garage Band. I was making a habit of digitizing my vinyl through Garage Band at that time, so I figured I could take it a step further and make a mix out of it. So, that exactly what I did. I fumbled through it, and I made an excellent product, considering I was learning the program on the fly.
We had a few copies with labels that Aries had printed at his work, and myself, along with the D2S crew, passed em out to people at other events like they were flyers. Instead of the mix being Multi-tracked, it was broken up into 3 long tracks. That was the best I could do at the time. The 3 tracks were labeled as such:
"Track 1: Big Up to ALL BAY AREA DEEJAYS who put it down! Music is the GREATEST GIFT OF ALL!
Track 2: What ever you're doin to this mixtape, do it to the best of your ability! Music is the GREATEST GIFT OF ALL!!!
Track 3: Y'all know how to get at me, haylow@blablabla or call me at 415-***-**** for feedback. Music is EVERYTHING to EVERYONE!!! PEACE & LOVE"
I don't know if anyone actually read or noticed that, so that's why I'm putting it out there.
So after the CDs were in a good circulation, I received an immense amount of positive feedback and compliments. That was my inspiration.
Love Movement 2: Love from the Soul
When recording this mixtape, I was much more comfortable using Garage Band for making my mixes, and I had 2 under my belt already (James Yancey Productions and Love Movement Vol. 1). This was my first mix using Scratch Live/Serato, so that was a significant mark for me. There isn't much of a story behind Vol. 2, but I can say that I wanted to do my absolute best, and that's exactly what I did. I put my best foot forward, and the result was one of my all time favorite mixes. That is the main reason why there never was a Vol 3. I felt I could not give the tremendous amount of effort that was put into Vol 2. I didn't want it to be anything less. I had ideas, I had thoughts, even playlists, but it has yet to materialize.
But, I assure you, it will.
Here is the message I attached with the Love Movement 2 CD:
"This mixtape was created due to the overwhelming amount of positive feedback recieved from the first Love Movement mixtape. I appreciate each and every comment, and to show that appreciation, It forces me to put my HEART and SOUL in to each project. WE DO IT ALL FOR THE LOVE Y'ALL, YEAH!"
The Love Movement Vol 1 was released into stores this year, and for years it was only Volume 2 for sale. I created the artwork for Vol 1 (there never was an official Cover). Aries did the artwork for Vol 2.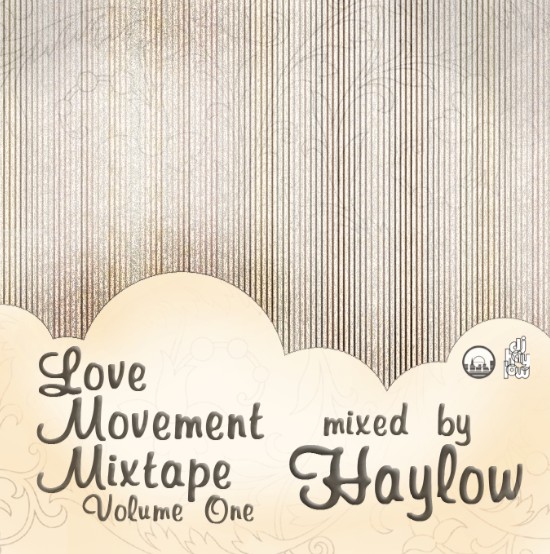 A Tribe Called Quest - The Love
Soulive Feat. Kweli - Bridge to Bama (Remix)
Black Thought / Little Brother - Listen to Speed (HaYLoW's Mash Up)
Raphael Saadiq Feat. Teedra Moses - I Want You Back
Kev Brown - Always
Encore Feat. Lady Bug Mecca - Real Talk
Madvillian Feat. Stacey Epps - Eyes
Little Brother - Home
Mos Def / Bobby Valentino - Slow Down Ms. Fat Booty (HaYLoW's Mash Up)
Me & Those Dreamin Eyes - D'Angelo (Jay Dee Remix)
702 Feat. Pharrell - I Still Love You
K-OS - Heaven Only Knows (Remix)
Dwele Feat. Kanye West & Consequense - Hold On (Remix)
P.H.E.A.R. - Amount to Something
Asheru Feat. Kweli - Mood Swing
Mos Def & Ronnie Jordan - Brighter Day
Nas Feat. Quon / 112 - You Already Know a Moment (HaYLoW'a Mash Up)
Alicia Keys - How Come You Don't Call (Neptunes Remix)
Akon - Senegal
Teena Marie - Still In Love
Camp Lo - Gotcha
A Tribe Called Quest - 4 Moms
Love Movement Vol. 1

•∞•∞•∞•∞•∞•∞•∞•∞•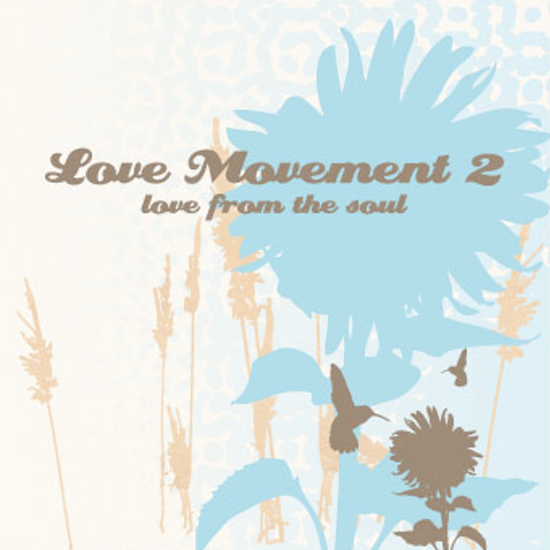 1. John, Duke, and Nina Give Their Interpretation of Love
2. Get ta Steppin - Common & Vinia Mojica
3. Pete Rock & C.L. Smooth - Searchin'
4. Common - Love Is....
5. The Roots - Hypontic
6. Marvin's Interpretation of Love
7. Slum Village - Call Me
8. Q-Tip - For the Nasty (Fakta Remix)
9. Self Scientific - Love Bird
10. Little Brother - Get Whatever Away (HaYLoW Mash Up)
11.Platinum Pied Pipers Feat. Tiombe Lockhart - I Got You
12.Count Bass-D Feat. Dionne Ferris - Seven Years
13. Bobby's Interpretation of Love
14. The Roots - Silent Treatment (Kelo's Remix)
15. Devin Feat. Erica Marion - Too Cute
16. Saukrates - Kalifornia
17. Jacore Baptiste Feat. PSD - Rollercoaster Love
18. Aceyalone - I Never Knew
19. Pete Rock Feat. Vinia Mojica - Mind Blowin'
20. Black Star - Brown Skin Lady
21. Leon's Interpretation of Love
22. Teedra Moses - Caught Up
23. J. Rawls Feat. Middle Child - What If
24. Vinia Mojica - Guilt Junkie
25. John's and Duke's Last Thoughts
Love Movement Vol. 2: Love from the Soul
Password: djhaylow


•∞•∞•∞•∞•∞•∞•∞•∞•


Some facts about the Love Movement Mixtapes:
-Prince Aries did the cover for the CD
-Love Movement 2 was completed in 5 days
-Love Movement 2 was in retail stores in LA, San Diego, and the Bay
-Track 1 on the Love Movement 2 Cover is incorrect. It says 'Common and Vinia Mojica, when it's Mos Def and Vinia Mojica
-There are many songs that ARE NOT Love songs on Love Movement vol. 1 LOL
-I used all vinyl for Love Movement Vol. 1
-Love Movement Vol. 1 was released in stores this year, but I recorded it in 2005
-There are 8 Non Hip Hop songs on Love Movement 2, but 3 are non Hip Hop songs by Hip Hop artists/groups
-Only 1 of the songs on Love Movement 2 is not a love song
-I recorded both Love Movement Vol. 1 & 2 on Garage Band
If you choose to download, Feedback/Comments is definitely appreciated.
Thank you for showing Love and Support.